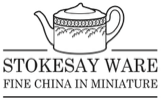 HANDMADE IN 1/12th SCALE
FOR DOLL'S HOUSES
We are taking orders for the Chelsea plates and Kitchenware listed on the left and usually have good stocks of these.
We are also making new designs of plates and dinner services which we offer at shows when available.
I continue to make our older ranges - Willow, Sovereign, Jubilee, Nursery and Blue and White but as demand has outstripped supply we are offering them for sale on Ebay as and when I can make them together with pieces from our archive. Our Ebay ID is stokesayarchive.
For more information about this please scroll to the bottom or our ORDER→ page.
OUR WORK
The Stokesay Ware range of doll's house china recreates classic English designs in miniature using completely authentic materials and techniques.
The pieces are made by hand from bone china, glazed and decorated with ceramic enamels and 22k gold which are all permanently fired on in the kiln.
All the china illustrated in these pages is unique to Stokesay Ware. As we make everthing ourselves all our shapes, moulds and artwork are entirely exclusive to us. It is made in the internationally recognised scale of 1/12th, meaning that one foot in full size is represented in the doll's house as one inch.
Established in 1981, Stokesay Ware can be found in both private and public collections in more than 25 countries. Turn to our ABOUT→ page to learn more about who we are and how we make our work
Thank you for visiting
Karen and Peter
Last updated January 2020
AUCTIONS
We continue to list our work on Ebay. Our ID is:
stokesayarchive
We plan to carry this on indefinitely so don't worry if you miss an item, it is sure to crop up again. We will make it clear if an item is the last piece available.
SHOWS
Our first show in 2020 will be the TOWER SHOW at the end of January followed by MINIATURA in March.
Please visit EVENTS → for further information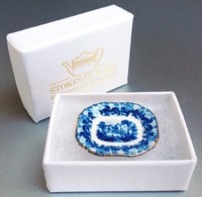 Our limited edition plate, Chelsea LE701 'Calico' is now sold out. We have one remaining plate *99 which we will be offering for sale on Ebay later this year. Please check for updates. Please visit CHELSEA LE701→ for more information.